Expert Local Pest Control Ware Services
DBS checks – we work 24 hours a day – covering the whole of Ware
Pests are something that every homeowner will eventually have to deal with. No matter how clean your home at some point pests will arrive. This may be squirrels in your attic or cockroaches beneath your fridge. Either way you're going to need some type of pest control maintenance.
Yes, you can attempt to do this yourself. But the fact is this: getting rid of pests is harder than it seems. The small size of most pests makes them difficult to spot, even for the most observant person. What's more, most pests are unbelievably good at hiding away from humans. You may also miss things like their eggs or larvae and this means the pests will quickly return. The solution to all this is to hire a professional pest control company in Ware like Pest Exterminators Herts. If this makes sense, then read on to learn more about our services:
Regain your sanity with our effective pest control  
Pests can drive you up the wall. You clean, clean, clean and still they return. You vacuum, scrub and clear away clutter. But despite this there are ants, cockroaches or bed bugs, marching around your home. It can drive you crazy, so why not contact Pest Exterminators Herts.
Our trained and experienced technicians are waiting for your call. To make things more convenient we operate a twenty-four hour on-call service. We're more than willing to come around early in the morning, or when you get home from work at night. Plus, we operate across every inch of Ware. Our team is also equipped to treat commercial properties of any size.
Commercial pest control in Ware for all business types
Let our skilled technicians solve your pest control issues  
Most pests are extremely unpleasant. You do not want them crawling around your business. If this happens it can put off potential customers and even lead to them boycotting you. This is easily preventable with pest control maintenance.
Our technicians will thoroughly survey your business. We look for points of entry and anything which may be attracting pests. When this is done we assess your needs and draw up a schedule for maintenance. From there our Ware pest control technicians will visit your business as often is as needed. This way you can rest easy knowing that pests will never interfere with your business. 
Routine pest control helps your business stay ahead
The truth is that pest control will help your Ware based business in the long run. Anyone who runs a restaurant will already know that pests attack food stores. When this happens, the food becomes contaminated and must be thrown away. This can result in thousands of pounds of damage and should be avoided wherever possible. Hiring Pest Exterminators Herts will definitely save you money.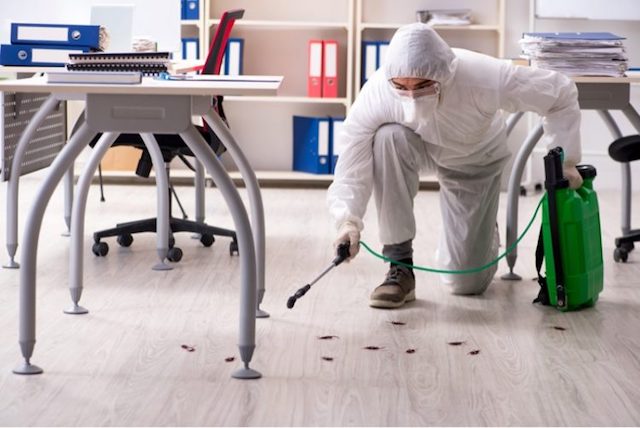 Not only that, pests are able to create extensive damage to your property. Some pests, like rats, can chew through electrical cables and this may even cause fires. This is something which can be avoided with the simple pest maintenance program.
Another reason why you should implement pest control is for your staff. The bottom line is that no one wants to work in an unhygienic environment. This saps staff morale and makes them think poorly of you. Show that you're a committed and compassionate boss by creating a spick and span work environment. It's the right thing to do!
Pest Exterminators Herts provide:
Proofing your home against external pests (e.g. squirrels)
Removal of bee and wasp nests
Residential pest control
Extermination of insects through fumigation and/or gel application
Elimination of rodents (e.g. mice and rats) through treatments that avoid bad smells and help restrict the spread of disease
Bird deterrent and management programmes
Fox and other wildlife control
Inspections of property
Personalised consultancy
Heat Treatments
Businesses we can help:
Retail Outlets
Industrial Premises
Warehouses
Storage Facilities
Restaurants
Food Retail & Processing
Hotels
Bars & Clubs
Institutions
Hospitals & Medical Centres
Nursing Homes
Industrial Premises
Warehouses
Storage Facilities