Solutions for a pest free workplace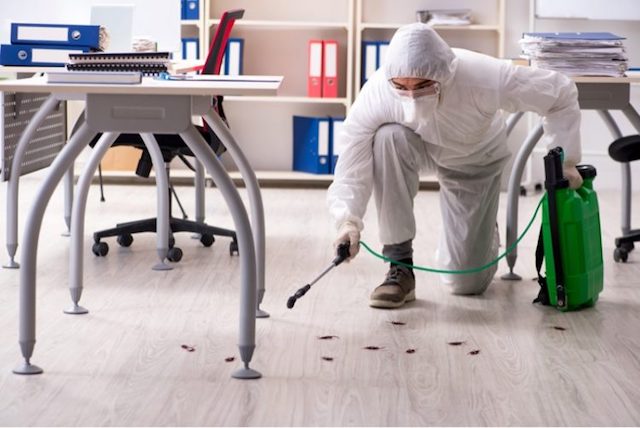 Pests can be a huge problem for businesses. Rats or cockroaches on the property can cause health and safety issues. It is just another issue for business owners to deal with. Pest Exterminators Herts is here to make sure that pest control in Hertfordshire is straightforward and simple.
About Pest Exterminators Herts' Commercial Services
Our experienced team will help you to create and keep a healthy workplace that is pest-free. Our pest control technicians are qualified, experienced, professional, and friendly.We comply with all the health and safety legislation and are members of the British Pest Control Association (BPCA) and the National Pest Technicians Association (NPTA) because we value high quality work. Not every company can boast about this. Our Hertfordshire pest control company, Pest Exterminators Herts, believes in training our technicians to the highest standard available. This job requires the use of hazardous chemicals. We follow stringent guidelines for commercial pest control.
BPCA and NPTA set out these guidelines. You can rest assured that you're getting the best service. Pest Exterminators Herts is well-known and trusted in the local community. We pay attention to detail. Our technicians are different from the fly by night operators in this business. They are trained professionals. More experienced employees always accompany our new technicians.
Our range of commercial pest control services covers all businesses. We have experience with all types of commercial premises. Pest Exterminators Herts technicians can handle any situation. Our small company specialises in finding solutions for challenging jobs. We can help you with pest control whether you own a small takeaway or a multi-storey car park. Our commercial pest control contracts will give you peace of mind.
Type Of Commercial Pest Control in Hertfordshire
Pest Exterminators Herts is based in Hertfordshire and specialises in commercial pest control. Over the years, we have gained experience with every type of commercial premises available. Our work knows no limits.
From small shops to large retail stores and offices. Restaurants and takeaways. Factories, warehouses and scrap yards. Because we are local,  our experienced team can get to you fast. We can meet the challenge and deal with all your pest problems.
We can effectively handle whatever pest issue you may have. Our technicians can tackle established pest infestation issues from rodents to cockroaches and birds. We've seen and addressed them all.
Our Commercial Pest Control Services In Hertfordshire Include:
Property Management:
We will help eliminate pests at any property you manage, whether it is a residential building, office, or retail space. We will help you achieve a pest-free environment with our friendly, safe, and quality pest control in Hertfordshire.
Warehouse/Storage:
Our services are vital for your storage space because we will keep your stock pest-free. At Pest Exterminators Herts, we carry out treatments that ensure no or little damage to your stock while preventing returning pests.
Offices:
High morale is essential in an office, so a good atmosphere is needed to keep production levels high. Controlling pests contributes to a good environment. Pest Exterminators Herts can get rid of pests in offices around Hertfordshire.
Restaurants/Food Retail/Food Processing:
When you have a business that deals with food, pests will always be an issue because it attracts them. Food preparation areas need to be clear of all pests to ensure your business passes the Health and Safety Inspections. You need pest control because you have to keep your patrons healthy and happy.
Commercial Pest Control Contracts
It makes sense to take out a contract with Pest Exterminators Herts, instead of continually calling Hertfordshire's pest services when there is a problem. A contract with us promises you:
Lower rates. Naturally, taking out a contract means you get cheaper rates.
Timely service is guaranteed. You don't have to wait for days for an exterminator as your business will have a scheduled time. This means you are guaranteed service.
Regular Maintenance. Pests will be kept in check. They don't have a chance to breed with continuous maintenance.
Less stress. You don't have to remember to call. Our technicians will pop in on schedule without you picking up the phone to remind them.
We tailor-make pest control contracts to suit your needs. Whether you own a usual or unusual business, we can help you because we are experts in our field. Give us a call. You might get a pleasant surprise.