Expert Local Pest Control St Albans Services  
DBS checked staff – 24:7 availability – we service the St Albans area
Pests can seriously disturb your peace of mind. They can also impact your health. What's more, the majority of pests are capable of causing some type of damage to your home. You can prevent all this by hiring the services of Pest Exterminators Herts.
Our team of pest control technicians can quickly put an end to these problems. We offer full service pest control in the St Albans area. With the assistance of our team you can drive out any pests which are residing in your home. We're fast, effective and make sure the pests never return! Below you'll find more information about our services and what you need to know before hiring us.
How to hire a pest control company in St Albans
The problem with pests is that they are incredibly difficult to track down. Most pests are tiny and hide away in the cracks and crevices of your home. To make things worse, pests are often only active at night. This means that to completely eliminate them you'll need the help of an expert team.
We can assist you with us. The technicians at Pest Exterminators Herts are active day and night. Our service operates throughout the St Albans area and beyond. We are standing by to help, and you're free to call us anytime you like.
Hire us to ensure that pests are a thing of the past
There is nothing more upsetting than discovering the presence of pests in your home. For this reason we work at the fastest speed possible. We make the greatest effort to eliminate all pests within hours of your call.
It starts with drawing up a detailed plan for treating your home. From there we begin with fumigation, heat treatments, or the placement of bait traps. With these techniques pests do not stand a chance, and you will soon forget you ever had this problem. And it's not only residential clients whom we service. Our team is available for even the largest commercial properties.
St Albans pest control for commercial premises
Keep staff safe with fast, reliable pest control
Pests have a seriously negative impact on your staff. They reduce efficiency, create an unpleasant environment, and can even make staff ill. Worse than this, pests may also interfere with your customers and put your business at risk.
Pest Exterminators Herts is the solution to these problems. Our team has the expertise and capabilities to handle even the largest commercial properties. Put the safety of staff and customers in our hands. You won't be disappointed.
Regular pest management for all types of properties
We offer both treatment for problems you have now, and also on-going St Albans pest control. With a pest control contract our technicians will routinely inspect your property and remove pests. This way pest numbers are kept at a minimum level and you avoid infestations.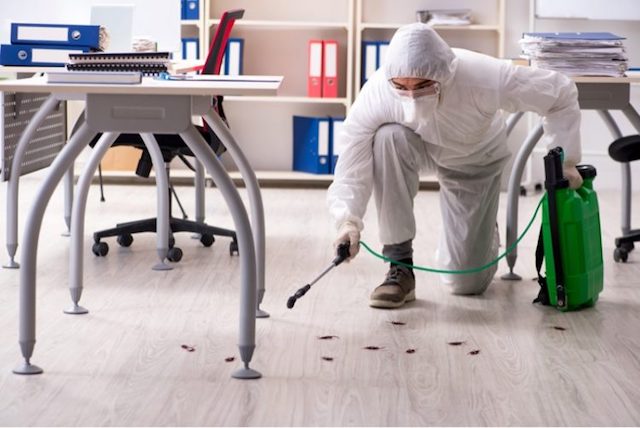 Ultimately this is about the reputation and operation of your business. Certain businesses, such as restaurants, cannot be associated with pests. Vermin can utterly destroy the reputation of your business. Pests can also impact the operation of your business. They can damage critical infrastructure, damage important stocks, and even lead to your business being shut down. You can prevent this from happening by hiring a company like Pest Exterminators Herts. We offer contracts to businesses. Remember, we operate twenty four hours a day throughout the St Albans area. Do not hesitate to call us immediately if you are dealing with the pest control emergency.
Pest Exterminators Herts provide:
Proofing your home against external pests (e.g. squirrels)
Removal of bee and wasp nests
Residential pest control
Extermination of insects through fumigation and/or gel application
Elimination of rodents (e.g. mice and rats) through treatments that avoid bad smells and help restrict the spread of disease
Bird deterrent and management programmes
Fox and other wildlife control
Inspections of property
Personalised consultancy
Heat Treatments
Businesses we can help:
Retail Outlets
Industrial Premises
Warehouses
Storage Facilities
Restaurants
Food Retail & Processing
Hotels
Bars & Clubs
Institutions
Hospitals & Medical Centres
Nursing Homes
Industrial Premises
Warehouses
Storage Facilities