Expert Local Pest Control Royston Services
DBS checked technicians – available 24/7 – servicing all of Royston
Pests can often become a headache for homeowners. Insects and vermin like rats may strike when you least expect it. These creatures may completely upset the balance of your life. They can make you extremely ill, cause destruction and can even give you sleepless nights. Anyone who has laid awake listening to rats in their ceiling will know what we mean.
Pest Exterminators Herts is here to help with this issue. Our team delivers Royston pest control and serves the surrounding areas too. We are able to eliminate all types of pests, this includes pests that crawl, fly, or scamper about. With the help of our technicians you will quickly move past this disturbing problem, and get your life back to normal. If you'd like to know what type of services we provide, please read the following page.
Let Pest Exterminators Herts solve your pest problem  
Our exterminators have spent a lifetime studying the habits of certain pests. We understand their movements, what they eat, where they live, and how they breed. Using this knowledge we are able to track down and destroy any type of pest you have in your home. No matter how deeply they are hidden we will ferret them out and eliminate your pests.
And in order to provide the highest standard of service possible, we operate day and night. Our technicians are available twenty four hours a day, and ready to travel to any area of Royston. Do not hesitate to call us, even if it's three o'clock in the morning. There is no reason to be ashamed of your pest control issues. We've seen and done it all, and no job is too big to handle.
Fast effective Royston pest control that works
Inexperienced pest control technicians can take weeks to finish a job. They come back to the site over and over again and still the pests persist. This costs you time and money and in the end you may simply give up. With us it's different. Our technicians know exactly what it takes to get rid of pests. Whether it's rodents, wasps, or birds, they are able to pin point the source of the infestation and control it.
This means your problems are solved at warp speed. You can kick back and relax, knowing that in just a few hours you'll be free of all pests. In fact, almost all of our jobs are completed within a day of your call. This makes Pest Exterminators Herts the fastest and most effective pest control company in Royston. It also means we've got what it takes to work with commercial clients.
Professional commercial pest management in Royston  
Keep staff and customers safe and protected
Healthy staff are the key to a happy work environment. When your staff are in good health they are able to work at their absolute best. Part of doing this means you need to maintain hygiene and cleanliness in your business. And this means keeping your business free of all pests.
If you need help with this then Pest Exterminators Herts can assist you. We provide a number of solutions which are tailor made for commercial clients. Whether you need pest proofing, fumigation, or simply want to discover the source of your pest issues. No matter, what your requirements we're standing by to help you. For more information about pest control in Royston, contact us today.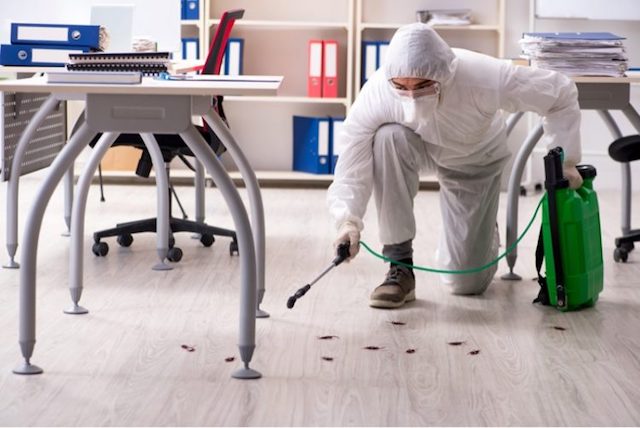 It's understandable if you're concerned about the impact our pest control methods will have on your business. We will endeavour to avoid disrupting it with our pest control Watford as much as we can. Once we have followed through on the plan of action, we don't just leave you without any support. We will carry out inspections in the weeks and months following removal to stop it happening again.
Pest Exterminators Herts provide:
Proofing your home against external pests (e.g. squirrels)
Removal of bee and wasp nests
Residential pest control
Extermination of insects through fumigation and/or gel application
Elimination of rodents (e.g. mice and rats) through treatments that avoid bad smells and help restrict the spread of disease
Bird deterrent and management programmes
Fox and other wildlife control
Inspections of property
Personalised consultancy
Heat Treatments
Businesses we can help:
Retail Outlets
Industrial Premises
Warehouses
Storage Facilities
Restaurants
Food Retail & Processing
Hotels
Bars & Clubs
Institutions
Hospitals & Medical Centres
Nursing Homes
Industrial Premises
Warehouses
Storage Facilities