Expert Local Pest Control Letchworth Services
DBS background checks – 24/7 service – throughout Letchworth
Pests can be the bane of your existence. Whether it's ants, cockroaches, rodents, or even birds, they make life extremely unpleasant. But did you know you don't have to put up with this problem? Pest Exterminators Herts is a pest control company that operates in Letchworth.
Our team of skilled technicians are able to destroy any type of pest infestation. Whether your pests crawl, fly, or burrow, we can get rid of them in a flash. We even deal with animal pests such as squirrels and foxes. On this page you'll find details of what we can do for you and how to get started now.
Get rid of pests in your Letchworth home
The reason why pest control is important is because these vermin can have a profound effect on your life. Many pests cause destruction and may even infect you with serious diseases. This includes things like salmonella poising and leptospirosis. All of this can seriously impact your life and peace of mind.
And while you may think you can deal with this problem yourself, that really isn't the case. Completely eliminating all pests is extremely difficult. Most pests are tiny and highly adept at hiding away from humans. What this means is that getting rid of them will require professional assistance. Why not turn this problem over to the trained professionals at Pest Exterminators Herts?
Our team works fast to eliminate your problem 
The technicians who work with us are highly qualified and experienced. In fact, we're proud to say that these are some of the most experienced pest control experts in Hertfordshire. They will create a plan for treating your home, and figure out how to prevent the pests from returning.
Before starting, we will walk you step by step through this plan. This way you know exactly what must be done and when. Nothing is left to chance and your home is thoroughly treated from top to bottom.
Best of all we're fast and work at a rapid pace. Years of experience mean we can do this job in our sleep. Your problems are solved in less than a day from when you call. Our team works throughout Letchworth. No matter where you live we're willing to make the journey.
Professional commercial pest control in Letchworth
Safeguard your customers and your workforce
Part of serving your customers means maintaining a pest free business. After all, no one wants to encounter rats or cockroaches when shopping or eating out, do they? Pests may also impact the happiness of your staff members. They create an unsafe and unsanitary work environment. This can demoralise staff and also reduce their efficiency. In a worst case scenario, pests may infect your staff with deadly diseases.
What's more, pests can also damage your premises and destroy stock. This can end up costing you thousands of pounds and be a massive pain to deal with. Our Letchworth pest control team can help you handle these problems. We will come up with a custom programme for removing the pests from your business. Once this is done our team will then assist you with on-going pest maintenance. This way you're guaranteed that the problem will never return.
Maintain a pest free business
At the end of the day it's all about your customers. The reputation of your business is vitally important. In order to maintain this and serve your customers, you must keep your business in a hygienic state. Make sense? Then contact Pest Exterminators Herts for a full range of pest control in Letchworth and the surrounding areas.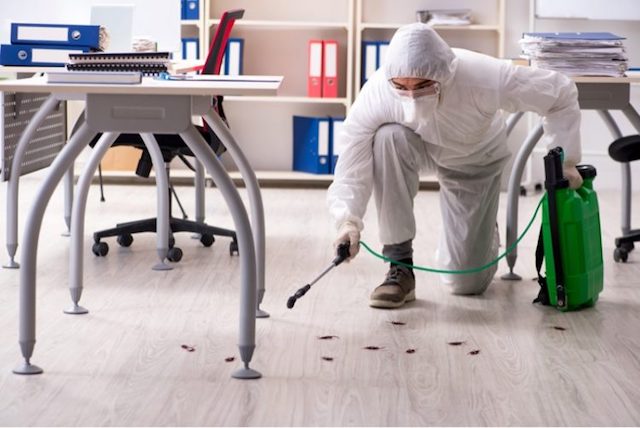 It's understandable if you're concerned about the impact our pest control methods will have on your business. We will endeavour to avoid disrupting it with our pest control Watford as much as we can. Once we have followed through on the plan of action, we don't just leave you without any support. We will carry out inspections in the weeks and months following removal to stop it happening again.
Pest Exterminators Herts provide:
Proofing your home against external pests (e.g. squirrels)
Removal of bee and wasp nests
Residential pest control
Extermination of insects through fumigation and/or gel application
Elimination of rodents (e.g. mice and rats) through treatments that avoid bad smells and help restrict the spread of disease
Bird deterrent and management programmes
Fox and other wildlife control
Inspections of property
Personalised consultancy
Heat Treatments
Businesses we can help:
Retail Outlets
Industrial Premises
Warehouses
Storage Facilities
Restaurants
Food Retail & Processing
Hotels
Bars & Clubs
Institutions
Hospitals & Medical Centres
Nursing Homes
Industrial Premises
Warehouses
Storage Facilities