Expert Local Pest Control Hertford Services
DBS background checks – 24/7 cover – all across Hertford
Are you dealing with a pest control emergency? If the answer is yes you've come to the right place. Pest Exterminators Herts operates in Hertford and the surrounding areas. Our team of expert exterminators specialises in all types of pests. This includes cockroaches, flies, ants, bed bugs, wasps, and rodents. We also deal with animal pests such as birds, foxes, and squirrels.
Many of these pests are extremely destructive. They can cause sleepless nights and negatively impact your health and happiness. If you're being overrun by pests then contact us immediately. Our services are cheap, fast, and effective. To discover the best pest control services in Hertford continue reading this page.
Take back control with our Hertford pest solutions  
While you may be tempted to tackle this problem yourself, it isn't recommended. The pest control solutions you find in the shops are largely ineffective. In addition to this, handling pesticides is extremely dangerous. If you have pets or small children there can often be dire consequences.
It's a far better idea to let our technicians exterminate the pests. With us, pest control is a breeze. In order to make things simple for you, we offer a twenty four hour service. Our technicians operate every day of the year, and are ready to service your property whenever you need us. No matter how inconvenient it may seem, we're standing by to take your call.
Our technicians work at lightning speed
We employ only the most qualified pest technicians in Hertford. They have the experience and knowledge needed to drive out any type of pests. We leave your property hygienically clean and sparkling. The difference that professional pest control can make is amazing, and you simply won't believe your eyes.
Our teams are always on standby, whether it's rain or shine. Even if it's the middle of the night Pest Exterminators Herts are ready and willing to answer your call. Do not be ashamed to pick up the phone. We provide the finest Hertford pest control services – no matter where you're located. And if you're running a commercial property, our technicians are willing to put in the work.
Effective commercial pest control in Hertford  
Keep your business pest free with our help
Our team prides itself on their dedication to service and high levels of professionalism. Over the years we've worked in every type of commercial property imaginable. From enormous warehouses to five star restaurants and beyond, Pest Exterminators Herts are here to help.
With our help the pest maintenance process is simple and straightforward. There are no hidden costs and we never cut corners. This way you can focus on what's really important, and leave your Hertford pest control to the pros.
Why is commercial pest control important?
While you may regard pest control as a waste of money this really isn't true. Anyone who has faced an infestation will know that pests are extremely destructive. These vermin may cause thousands of pounds of damage to your business. Even more importantly, they can spread deadly diseases amongst staff and customers. But the real reason why pest control is so important is because of your reputation.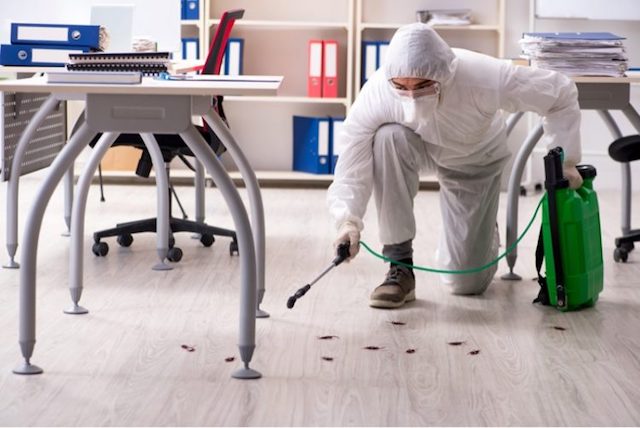 Pests can completely destroy the goodwill that customers have towards your business. Even the most loyal customers may be turned off if they discover you have pests. These are just a few of the reasons why pest control is so important. If you agree, and want to get started today, then contact us now for Hertford's number one pest control service.
Pest Exterminators Herts provide:
Proofing your home against external pests (e.g. squirrels)
Removal of bee and wasp nests
Residential pest control
Extermination of insects through fumigation and/or gel application
Elimination of rodents (e.g. mice and rats) through treatments that avoid bad smells and help restrict the spread of disease
Bird deterrent and management programmes
Fox and other wildlife control
Inspections of property
Personalised consultancy
Heat Treatments
Businesses we can help:
Retail Outlets
Industrial Premises
Warehouses
Storage Facilities
Restaurants
Food Retail & Processing
Hotels
Bars & Clubs
Institutions
Hospitals & Medical Centres
Nursing Homes
Industrial Premises
Warehouses
Storage Facilities