Expert Local Pest Control Cheshunt Services
DBS history checks – available 24/7 – covering all of Cheshunt
Pests can seriously affect your quality of life. They make your home seem dirty and inhospitable. Not only that, pests can make your home extremely uncomfortable. It's almost as if you're sharing it with an unwanted guests. This applies to all pests, from ants to the filthiest rats.
Good thing Pest Exterminators Herts is here to help you! Our company specialises in removing all types of pests. From cockroaches to wasps, birds, and even squirrels, our team has a solution for you.  We work with you for as long as it takes to clean up the mess. However long it takes we're dedicated to restoring your home to its original state. Take a look at the information below and learn more about our services.
The only pest control service you'll ever need  
The problem with pests is that they are mostly invisible. Your average pest only emerges once the coast is clear. This can make them extremely hard to get hold of. Not only that, it's sometimes very difficult to even notice that you have pests.
This is why it pays to employ the services of a professional pest control company. We are here to serve you and operate a 24/7 after hours service. Our Cheshunt pest control technicians are waiting for your call, whenever it may come. We are trained and equipped to remove all types of pests. This includes pests that fly, crawl and burrow. With our help you'll never have to worry about pests again and can go back to enjoying your home.
Our rapid pest control in Cheshunt has you covered
The process is simple. Start by calling us. As soon as you do this, our technicians will be instantly dispatched to your property. We'll make a quick survey and determine what is needed. Our team will then discuss this plan with you. Before starting your pest control in Cheshunt, we will fully inform you as to what is needed, the cost, and how long it will take. This way there are no surprises and – most importantly – no additional or hidden costs.
Pest Exterminators Herts pride ourselves on speed of service. In most cases we are done in less than a day from when you pick up the phone. Our technicians are able to provide this level of service due to their extensive training and superior equipment. And if you're a Cheshunt business owner we're also available for commercial pest control.
Regular commercial Cheshunt pest management 
Eliminate pests in your business with our contracts
Many business owners never think about pests until it's too late. They focus on other things like their day to day tasks and bringing in new customers. Unfortunately this isn't something which you can neglect. In fact, the consequences of doing this may have severe penalties for your business.
Many pests can spread life threatening diseases. This may become a serious problem for people who run food related businesses. If an outbreak is traced back to your business it could result in fines and the closure of your business. And in the event of food poisoning it may even mean getting closed down. This may sound like an exaggeration, but it does happen.
Your reputation is on the line
Even more important than this is your reputation. No one wants to frequent a restaurant where there are cockroaches running around. Even the smallest businesses in Cheshunt cannot afford this. Pests can utterly destroy your reputation and drive away customers. Don't let this happen to you. Contact Pest Exterminators Herts for superior commercial pest control.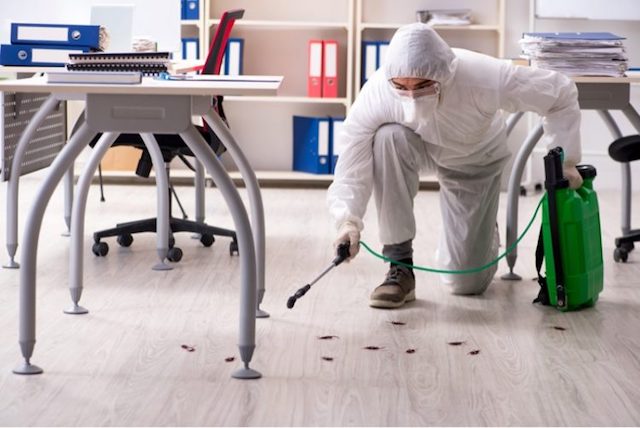 It's understandable if you're concerned about the impact our pest control methods will have on your business. We will endeavour to avoid disrupting it with our pest control Watford as much as we can. Once we have followed through on the plan of action, we don't just leave you without any support. We will carry out inspections in the weeks and months following removal to stop it happening again.
Pest Exterminators Herts provide:
Proofing your home against external pests (e.g. squirrels)
Removal of bee and wasp nests
Residential pest control
Extermination of insects through fumigation and/or gel application
Elimination of rodents (e.g. mice and rats) through treatments that avoid bad smells and help restrict the spread of disease
Bird deterrent and management programmes
Fox and other wildlife control
Inspections of property
Personalised consultancy
Heat Treatments
Businesses we can help:
Retail Outlets
Industrial Premises
Warehouses
Storage Facilities
Restaurants
Food Retail & Processing
Hotels
Bars & Clubs
Institutions
Hospitals & Medical Centres
Nursing Homes
Industrial Premises
Warehouses
Storage Facilities