Expert local pest control services in Broxbourne
DBS record checks – available 24 hours – servicing all of Broxbourne
Don't let pests get you down! There's no reason why anyone should bear the aggravation. Whatever type of insect you're infested with, our pest control team in Broxbourne can have them gone in a jiffy. We have the skills and equipment needed to exterminate rodents, cockroaches, beg bugs, wasps and more.
Here at Pest Exterminators Herts we pride ourselves on attention to detail. We make sure no stone is left unturned and you're more than satisfied with our work. And unlike our competition, we only leave when the job is 100% complete. If you're currently plagued by pests, then act now and give us a call. On this page we'll quickly detail our services and what we can do for you.
Reliable pest control in Broxbourne that works
If you have a pest infestation, then it's important to take immediate action. Pests are active day and night. They emerge whenever you are away to hunt for food and breed. Some pests are able to multiply at an exponential rate. This means their numbers could soon be out of control. Do not ignore this problem. You need to take immediate action – even if you spot one or two insects in your home. That one or two could soon turn into thousands.
This isn't a problem to be ashamed of. It's not your fault. Pests are simply a fact of life for Broxbourne homeowners. No matter how stringent your efforts, eventually pests will find their way inside. And when this happens, they are sometimes impossible to remove. At this point it's time to contact Pest Exterminators Herts.
We are the fastest pest control company in Broxbourne  
Our foremost value is speed. As pest control specialists we understand how utterly distressing this problem is. We also know that pest infestations are unbelievably irritating. You want the problem solved yesterday and we are dedicated to achieving this goal.
For this reason, we aim to finish each job in less than a day from when you call. And with 9 out of 10 clients we reach this target. The technicians at Pest Exterminators Herts are ready to leap into action. We operate a twenty-four hour emergency service which enables us to work around the clock. It also allows us to service commercial clients in Broxbourne whenever they need us.
We also offer commercial pest management solutions 
Peace of mind with our pest control contracts
Our seasoned technicians are highly adept when it comes to servicing commercial properties. They have the skills, training, know-how, and equipment to handle anything. Over the decades we've dealt with every type of building imaginable. From scrap yards, to factories, power plants, hospitals and more. We also service the smallest shops and restaurants.
With our commercial Broxbourne pest control solutions, you can breathe a sigh of relief. Your business is safe in the hands of our dedicated technicians. They will do whatever it takes to eliminate the pests in your establishment.
Why is commercial pest control so important? 
Commercial pest control is vitally important for all businesses. The reason why is simple. Pests can damage your business and destroy stock. They also spread diseases to staff and customers and are a nuisance in general. Our pest control services are too good to be true. We're not bluffing! Contact us today to experience service that only true professionals can provide.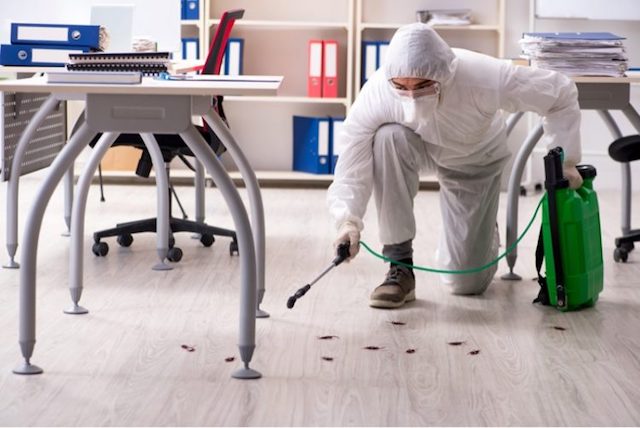 It's understandable if you're concerned about the impact our pest control methods will have on your business. We will endeavour to avoid disrupting it with our pest control Watford as much as we can. Once we have followed through on the plan of action, we don't just leave you without any support. We will carry out inspections in the weeks and months following removal to stop it happening again.
Pest Exterminators Herts provide:
Proofing your home against external pests (e.g. squirrels)
Removal of bee and wasp nests
Residential pest control
Extermination of insects through fumigation and/or gel application
Elimination of rodents (e.g. mice and rats) through treatments that avoid bad smells and help restrict the spread of disease
Bird deterrent and management programmes
Fox and other wildlife control
Inspections of property
Personalised consultancy
Heat Treatments
Businesses we can help:
Retail Outlets
Industrial Premises
Warehouses
Storage Facilities
Restaurants
Food Retail & Processing
Hotels
Bars & Clubs
Institutions
Hospitals & Medical Centres
Nursing Homes
Industrial Premises
Warehouses
Storage Facilities