Looking for pest control in Hemel Hempstead?
DBS checked technicians – day and night – all areas of Hemel Hempstead
Pests comes in all shapes and sizes. They include things like cockroaches, ants, rats, wasps, and birds. But no matter what types of pests you have, they can seriously affect your life. Many pests are incredibly destructive. Birds can tear apart your roof and rats spread life altering diseases.
What this means is that no matter how small your pest problems, you need to do something immediately. Allowing this problem to fester may have serious consequences. Whether it's your home being damaged or a family member becoming ill.
Pest Exterminators Herts is a team of technicians who offer professional pest control in Hemel Hempstead and the surrounding areas. With our decades of experience you can quickly solve any type of pest control issue. We're dedicated to helping you sort out this issue. To learn how we can assist you with pest control issues please continue reading.
Full service pest removal in Hemel Hempstead
While you may be tempted to solve these problems yourself, this is not recommended. Commercially available pest control solutions are not effective. Not only that, most pests are extremely difficult to track down. Even if you think the problem is solved they can often return.
This is why it's best to hire the services of a professional. Our Hemel Hempstead pest control team works day and night and services all areas of Hemel Hempstead. Whether your job is big, small, or something unusual, you can feel free to call us day and night. We are even available to help with pest control emergencies.
The fastest pest control in the local area
At Pest Exterminators Herts we're aware that you need the fastest service possible. No one wants to deal with pests for weeks and months. This is why we aim to solve your problem in as little as 24 hours after your initial call.
We're able to achieve this with 90% of jobs and can often do it in only a few hours. The reason why we're so efficient is due to the advanced pest control technologies which we use. It's also because of the qualifications and experience of our staff. And if you own a business and need pest control then we're also available.
Reliable commercial Hemel Hempstead pest control
We understand the importance of pest control for business
For many years we have served the business community in Hemel Hempstead. This includes all types of businesses from the smallest shops to the largest factories. We service restaurants, takeaways, warehouses, and even blocks of flats.
We understand that pest control is an essential part of your business. This is simply another problem you have to deal with, and because of that we make things as easy as possible. Our team will come up with a one-of-a-kind plan that works for your business. This way pests are kept away from your business and you don't have to think about this issue. 
Discreet pest control when you need it  
Pest Exterminators Herts appreciate that pest control can often be an embarrassing problem to deal with. After all, this isn't something that you want your customers to know about. For this reason we make every effort to be as discreet as possible.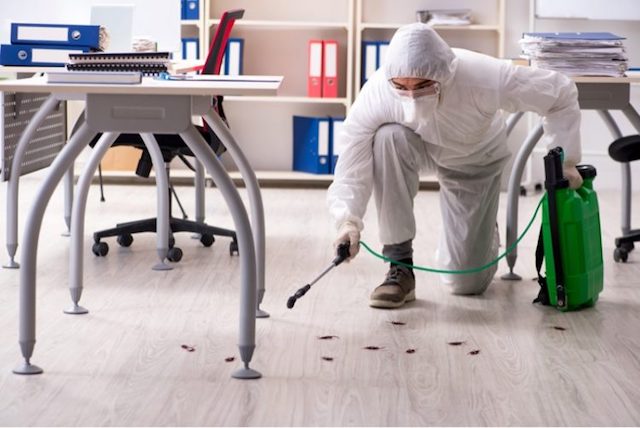 Our team can come in long after your customers and staff have left. We work quickly and remove the pests without any fuss at all. This way you can get back to business as quickly as possible. If this sounds good to you then get in touch with us today.
Pest Exterminators Herts provide:
Proofing your home against external pests (e.g. squirrels)
Removal of bee and wasp nests
Residential pest control
Extermination of insects through fumigation and/or gel application
Elimination of rodents (e.g. mice and rats) through treatments that avoid bad smells and help restrict the spread of disease
Bird deterrent and management programmes
Fox and other wildlife control
Inspections of property
Personalised consultancy
Heat Treatments
Businesses we can help:
Retail Outlets
Industrial Premises
Warehouses
Storage Facilities
Restaurants
Food Retail & Processing
Hotels
Bars & Clubs
Institutions
Hospitals & Medical Centres
Nursing Homes
Industrial Premises
Warehouses
Storage Facilities